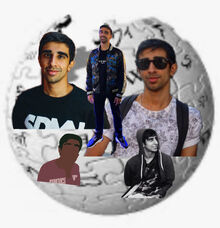 Vikkopedia was the name of an old wiki focusing on the Sidemen. This wiki appeared to be abandoned and had little-to-no useful information on it. Vikkopedia has now been terminated.
You have now been re-directed to The Ultimate Sidemen Wiki! Here, you can find much more content and more regularly monitored pages. Two pages existed on Vikkopedia; and out of respect to the original editors and founder, the majority of the information on those two pages have been transferred here.
We hope you understand and we are sorry for any inconvenience we may have caused you. Hopefully you can enjoy this brand new wiki and join the community! Even if you don't have anything to edit, you can still contribute to our many polls and fan pages.
Thanks for your time! Mysterious Editor (talk) 21:14, February 15, 2015 (UTC)
Community content is available under
CC-BY-SA
unless otherwise noted.