The Sidemen (formerly known as The Ultimate Sidemen), created on 19 October 2013, are a British YouTube group made up of Zerkaa (Josh Bradley), Miniminter (Simon Minter), TBJZL (Tobi Brown), KSI (Olajide "JJ" Olatunji), Behzinga (Ethan Payne), Vikkstar123 (Vikram Barn) and W2S (Harry Lewis). They are the biggest YouTube group in the United Kingdom.
The Sidemen are a group of friends who began playing video games online together in the early 2010s. As the decade progressed, they branched out into more varied content and created a commercial brand from their name. Since January 2018, they have uploaded weekly videos to their group channel under the banner of "Sidemen Sunday".
They created a second channel called MoreSidemen in 2018, which was originally used for compilations, but evolved into a channel where multiple videos are posted a week. In 2020, they made a third channel called SidemenReacts, where they exclusively post "reaction videos". In 2021, they created a fourth channel called SidemenShorts which utilises the YouTube Shorts section of the website.
The Group
The members of the group are:
History
Main article: The Sidemen Yearbook
In 2005 (aged 12–13), Miniminter became friends with KSI and would help him record videos for fun. The two eventually ended up connecting with Zerkaa in 2012, who was already long-term friends with TBJZL from secondary school. On Josh's 21st birthday in September 2013, the four were all in a voice hangout and started watching a stream from Behzinga, whom they then invited to the group. This initial group was nicknamed - by Simon - as "The Original Five". Ethan coined the official name of the group, which is an allusion to a term to refer to those who are "behind the scenes" in a group and are much less popular than the main members.[1] Originally, Simon was a "sideman" to JJ while Tobi was a "sideman" to Josh.[2]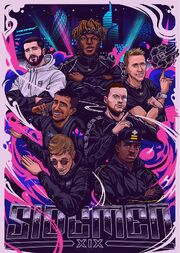 They started recording and playing Grand Theft Auto V together over the following months. After a while, they invited Vikkstar123 into a call to help with technical support. He fit the group despite not being as invested in FIFA/football as the others, but joined anyway as it was an informal group at the time. The Ultimate Sidemen - minus wroetoshaw - officially formed on 19 October 2013. A few months later, in early 2014, they asked Harry to record with them and he too fit in and eventually became integrated. The Sidemen released a video on their second channel in 2019 explaining in detail how each member was added into the group and how the group was officially formed. British rapper JME allegedly played a key part in the group's formation behind the scenes.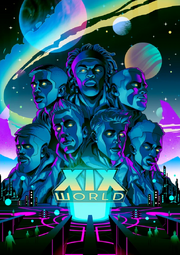 In August 2017, KSI "left" the group (he claimed it was "because of Ethan", triggering events known as the "Sidemen War/Beef") which in turn prompted a series of diss tracks and online spats. The majority of the "beef" was fabricated and was deemed by some as a ploy to gain more views/attention. In reality, JJ never actually left the group and the seven remained friends.
In 2018, the Sidemen launched a web television series for YouTube Originals called The Sidemen Show. It premiered in June 2018 to positive reviews and reactions. However, the group denied any intent to make further episodes due to the high costs involved.
The Sidemen have a diverse fan base. As shown in vlogs made by individual Sidemen members, the majority of the fans that show up to events are young teenage males. A majority of their fanbase has grown up with the group and spent a large proportion of their teenage years watching the Sidemen's videos.
In the 2020s, the Sidemen cemented themselves as a commercial brand. The seven members are all directors for the main Sidemen companies (Sidemen Clothing Ltd., Sidemen Holdings Ltd., Sidemen Entertainment Ltd. and Sidemen Ventures Ltd.) with all these companies officially operating from their headquarters in Worthing, West Sussex.[3]

Events
As their popularity began to grow, the Sidemen began to branch out and started hosting their own events. Appearances at commercial gaming events such as Insomnia, as well as unofficial meet-ups are not counted as there are too many of them: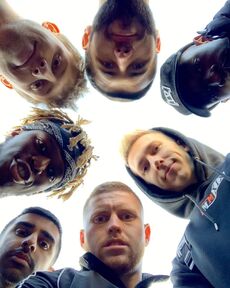 Accommodation
This is an overview of where each of the Sidemen has lived since their formation in 2013. Prior to moving into the locations below, most of the members lived with their parents/family except Zerkaa who had a flat:
Cars
As the Sidemen have grown more popular and individually grown wealthier, their cars have become more high profile and notable. Here is a gallery of some of the current and former cars owned by each of the Sidemen.
KSI's purchase of a Lamborghini Aventador LP700 in 2014 first made people aware of how much money YouTubers can make and spend, and it has become a trend for YouTubers to show off their expensive cars in the years since.
Supported Football Clubs
Football is a sport which has been a constant in the Sidemen's development. Many of the members built their channels off FIFA videos so naturally most of them are fans of major clubs in the English Football League (EFL). Some of the group are more committed football fans than others - W2S is known for wearing any branded football kit he feels like.
Games
All of the Sidemen are fans of association football and FIFA, specifically pro clubs, is one of the main games that is commonly featured on the MoreSidemen channel. Each member of the group used to have at least two YouTube channels; one for FIFA and "real life" videos and one for other games such as Grand Theft Auto V and Call of Duty. Vikkstar123 was an exception; his main channel was not FIFA-focused and his second channel was Minecraft-focused. Now, however, they rarely use their main channels to play these games, instead playing on their second channels or on the MoreSidemen channel as a group.
This is a list of video games played by the Sidemen since the group began in 2013.
This list is potentially endless. You can help out by adding any video games we may have missed. Please make sure they are genuine and you have sourced them reliably.
A game that gains a position on this list must have had AT LEAST two Sidemen playing together (i.e. a video game that Miniminter has played on his own would not count towards this list).
List
Golf It
Mad Verse City
Geoguessr
Quiplash
Gartic Phone
Higher or Lower
Murder Party - Jackbox Games
Among Us
Survive the Internet
Codenames
Draw My Thing
Monopoly
Pinturillo 2
Draw With Friends
Call of Duty
Tower Unite Minigolf
Golf with Your Friends
3D Ultra Minigolf
Dead by Daylight
Garry's Mod (GMOD)
Trivial Pursuit Live
Pokémon Go
Shellshock Live
Slither.io
Uno/Uno Rush
H1Z1
Sniper Elite 4
Tom Clancy's Ghost Recon Wildlands
Gang Beasts
Google Feud
Ratty Catty
Winning Putt
Ballistic Overkill
Slender
Doom
Overwatch
Tom Clancy's The Division
Last Will
Keep Talking and Nobody Explodes
NHL
WWE 2K
Plastic Warfare
Akinator
Fishing Planet
NBA 2K
DiRT 4
Depth
VR Pool
Rainbow Six Siege
Steep
London 2012 Olympics
Skate 3
Portal 2
The Forest
Snow
Minecraft
Mount Your Friends
PlayerUnknown's Battlegrounds
Fortnite Battle Royale
Quiz Night Tonight
Trials
Skribbl.io
Bus Simulator 18
Are You Smarter Than A 5th Grader
Team Fortress 2
Peggle
Ultimate Fishing Simulator
YouTubers life
UFC 2
Fall Guys
Who's Your Daddy
Trivia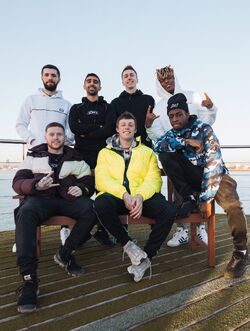 Simon runs and maintains the "MoreSidemen" channel.
XIX, which represents the number 19, stands for the day the Sidemen were formed (19/10/2013).
Their club on FIFA is also named XIX.
The group, mainly those that lived in the Sidemen House, would record game play throughout the night and spent up to 14 hours a day sat at their desks. This resulted in abnormal sleep patterns/schedules. Vik revealed that, in order to sustain his near-constant upload schedule on YouTube, he went to sleep at around 11:00 am and woke up at 6:00 pm. This was seen a lot, especially when streaming with friends overseas.
During the time that Simon and JJ shared a flat (2019 until 2022), the Sidemen would use it as base to film their less-extravagant group videos such as Q&A's and indoor low-budget challenges.
References
External links