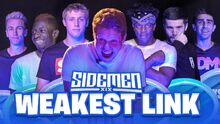 Sidemen Sunday (#sidemensunday) is a YouTube series on the official Sidemen channel. These videos have been uploaded weekly since 2018 and (or sometimes) feature all seven Sidemen. The videos are all of a wide variety of genres.
Usually, these videos are released between 6pm - 8pm GMT, however there have been a few times when videos are released earlier or later than this due to events/editing problems etc.
Since the first week of 2018, the Sidemen have uploaded one video every single week to this channel, until March 2019, when a week was missed.
The Sidemen began uploading the series every Sunday early this year. The first few weeks featured some content that was similar to what they have done on their respective channels (Reactions, Football challenges, Podcasts etc.). They also had some collaborations with Jack Whitehall, RackaRacka, JME & other YouTubers (Callux, Calfreezy, Stephen Tries among others). It also marked the debut of Folabi, a fictional character created by JJ, and the growing popularity of Phil.
The year is also remembered for its Family Fortunes video that led to drama between Deji and Randolph, and later between Deji and JJ.[1]
The year is known for producing two of the channel's most popular contents; $10,000 vs $100 Holiday/Road Trip and Tinder in real life. The group also made collaborations with Nigahiga, The Jabbawockeez and the Faze Clan. It also featured other characters portrayed by JJ, such as Sir Theodore III & Babatunde.
The year 2020 marks the channel reaching 10 million subscribers, it also featured real-life versions of two popular games of the year; Fall Guys & Among Us. Due to the COVID-19 pandemic that forced countries to go on lockdown in March, production was affected but the Sidemen continued to make content during quarantine, branding themselves the 'insidemen'.
Content
Popular game show formats they have used to create videos include The Weakest Link, Family Fortunes, Total Wipeout, Deal or No Deal, The Chase and Who Wants to Be a Millionaire?. They also create multiple "hide and seek" videos, as well as the usual YouTube "challenges" such as Not My Arms, Whisper Challenge, and You Laugh You Lose which achieve great responses. Sporting concepts such as minigolf, sumo wrestling, yoga and the Olympics have also been utilised.
References