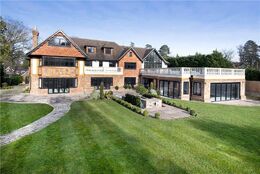 The Sidemen House (2016–2019) is a 6 bedroom luxury mansion in which four of the Sidemen; KSI, Miniminter, Zerkaa, and Vikkstar123 used to live.
It was dubbed "The Sidemen House", taking the name of the former house.
They moved there in mid-2016, after having lived in the former house for around two years.
Occupants
Zerkaa, Miniminter, KSI, and Vikkstar123 were the four Sidemen who resided in the house since they moved in. Various other people (such as Randolph, Lewis Redman, Jordz, etc.) lived in the house on a temporary basis.
Unlike the first house, this was not in an open, suburban area. It was situated on a private estate with 24-hour security - a factor they undoubtedly considered when choosing a new house.
Vik left the house in November 2018 (after nearly five years of living with the other three) to move into his own apartment. In January 2019, Josh also left the house and moved into a new apartment he had bought with his girlfriend Freya. Finally, Simon acquired a flat in Central London with JJ, and moved out in January. JJ lived on his own in the house up until March 2019, when he finally moved into his new apartment.
Price
The mansion costs £6,750,000 or $8,572,500.[1] It was rumoured that KSI was the one who purchased the house, however that was never confirmed and is assumed to be just a rumour.
The mansion is stated to be one of the largest and most luxurious property in the exclusive estate of Keston Park. The property measures 15,000 sqft and sits on a south-facing plot of around 1 acre.
Description
The mansion is stated to offer an unparalleled living experience, where the extent of quality, finish, design and specification is second to none. It was designed to incorporate every conceivable luxury, including an extensive leisure complex and state of the art entertainment facilities.[2] It includes :
Ground Floor
Reception Hall
Cloakroom
Dining room
Drawing room
Sitting room
Office
Kitchen/breakfast room
Family room
Utility room
Indoor Swimming Pool Complex
Sauna
Steam room
Changing room and shower facilities
First Floor
Master Suite with private roof garden and elevator (KSI's room)
Four en suite bedrooms (Simon's room, Vik's room, Josh's room and one unused en suite bedroom)
Laundry room
Second Floor
Master sitting room
Au pair suite
Gym
Beauty room
Cinema room
Outside
Landscaped Gardens
Integral four car garage with one bedroom apartment above
Carriage Driveway
Gallery
Videos
More of the interior of the Sidemen House can be seen in the following videos.
Trivia
None of the Sidemen ever filmed an official tour of the new house (until Simon made his last video in the new Sidemen House). There was a short period of time in early-2016 when they were in the process of moving, so their videos simultaneously showed old and new room locations - regularly switching between the new and old house. Many people grew suspicious when a new and much larger house was seen in the background of the group's videos.
There was a period of roughly one year when the group didn't even formally acknowledged the fact that they had moved house. It appeared to be a running in-joke that the Sidemen had (pretending they have not moved house), as shown in one of their Grand Theft Auto V session.