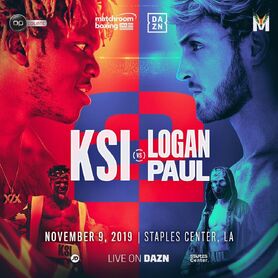 KSI V Logan Pau
l
is the banner name for the two-part boxing match between
KSI
and
Logan Paul
. This page will focus on the second match - a rematch which took place on 9 November 2019.
This match was included in the initial contract, and was scheduled to happen regardless of the result of the first match. It was officially announced on 3 September 2019 and took place in the Staples Centre in Los Angeles, California.
History
Immediately after the result of the first fight in 2018 - which ended in a draw - a rematch was agreed to live in the ring. In the days following the fight, KSI suggested the match take place in May 2019 but Logan wanted it to take place in December 2018. A date in the middle (February 2019) was suggested, however this was later confirmed to also be false. KSI blamed Logan's management team for incompetence and an inability to decide on location/legal issues.
KSI stated numerous times that he hoped the venue will be located on the East Coast, since that makes the most sense timezone-wise (if it took place on the West Coast, it would be the middle of the night for the UK audience). The fight was eventually confirmed to take place at the Staples Center in Los Angeles.
Result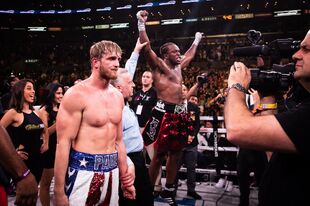 KSI won the fight via a split decision and rejected the proposal for a third fight.
Community content is available under
CC-BY-SA
unless otherwise noted.