The Eboys are a group of four British YouTubers: Memeulous, WillNE, ImAllexx, and James Marriott.
The group posts weekly videos onto their shared YouTube channel, which often include contributions from their fanbase. They have their own podcast called The Eboys Podcast. The group is highly collaborative, with all four members being responsible for the video ideas and video editing, and take it in turns to introduce each video.
They try and post a new video at 9pm GMT every Saturday.
History
Prior to forming the channel, the Eboys had been friends for years, and, being part of the Commentary community on YouTube, have often featured on each others' YouTube videos, in particular on Will and George's second channels (S2W and Memeuless respectively). Alongside featuring on each others' channels, Alex and James ran a podcast together from late 2018 to mid 2019 called the Camp Cast, and had episodes featuring both Will and George. Alex and George are roommates.   
For a while, fans of the boys have called for them to form a group channel, due to their humour and chemistry on-screen. Plans for such a group channel were in the works for several months, but didn't get far (in part due to not finding a suitable name for such a channel). The channel was eventually made under the name "Eboys", which refers to the internet culture of eboys and egirls made popular on TikTok, and who the four boys have often poked fun at and jokingly say they are a part of. The channel was made in April 2020 during the COVID-19 pandemic, and its formation was likely accelerated due to this, most likely in order to keep viewers entertained whilst in quarantine, for the four creators to have fun making less "serious" and more light-hearted content, and also to capitalise on the fact that more people watched YouTube during this time. The channel amassed over 500,000 subscribers within a week of being created, and has only continued to grow as content is uploaded.    
The channel has been compared to the Sidemen, not only because the Eboys and Sidemen are known to be acquaintances, but also for the similar concept and content (in particular compared to the MoreSidemen channel), however there is no bad blood between them, and Sidemen member Miniminter congratulated the Eboys on their success and wished them luck in his What's Good Podcast.
Members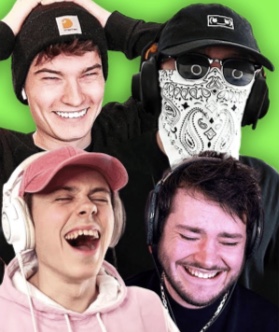 Memeulous: George is a commentary YouTuber. On his own channel, he posts content about popular internet trends, as well as reacting to funny online content. He has not yet revealed his face and he wears a mask and sunglasses in his videos, but he did reveal his eyes for his 4 million subscriber special. A recent series on his channel has been "Discord School", where fans are invited onto Discord to make presentations and the four Eboys will react and "judge" them.
WillNE: Will was once in a "subscriber war" with fellow YouTuber Jill Hudson (Morgz Mum) until he eventually surpassed her in subscribers in April 2020. Although originally a commentary YouTuber, his content has progressed to a variety of videos, such as getting famous YouTubers to sing "All Star" by Smash Mouth.
ImAllexx: Alex also runs a commentary channel. His videos are mainly reaction commentary, and he is known for his series reactions to popular TikTok stars. 
James Marriott: James is the only group member who wasn't born in England, as he was born in Switzerland. He can also speak Portuguese, Engish and Spanish. His content is also commentary, and has recently gained notoriety for his series on "Nikocado Avocado" where he reacted to his OnlyFans content and eventually had a discussion with Nikocado himself about social media and his career.
Connections to Sidemen
Eboys
He participated in Fitness February, the 2017 charity football match and the 2018 charity football match
Behzinga was in an S2W video called "cool internet videos with ethan" and WillNE was in Ethan's video called "I MADE A REDDIT PAGE! Ft WillNE".
Calfreezy made a video called "What Happens on a $15,000 YOUTUBER Holiday" where himself, WillNE, AnEsonGib, Theo Baker and Sidemen member Harry went on a holiday
He was ranked in "SIDEMEN RATE UK YOUTUBERS" as a "banger" (second tier).
The Sidemen were in an XO video called "XO vs The Sidemen".
In the "I went undercover as a Sidemen fan..." video Miniminter tweeted "@WillNE why is your head so square?"
The What's Good Podcast made a video called "BELLE DELPHINE Bought WILLNE a NEW CAR??".
WillNE has made videos about the Sidemen including "WillNE VS THE SIDEMEN", "Invading The Sidemen House (Ft. Miniminter KSI and TheBurntChip)" and "Responding To The Sidemen".
Miniminter mentioned Memeulous on a Happy Hour Podcast called "Miniminter's on Why He Hates Commentary Channels"
Memeulous has made videos about the Sidemen including "KSI VS SIDEMEN VS RICEGUM (DISS TRACKS)", "My Response To Miniminter... (LMTH)", "MY RESPONSE TO KSI (LMTH)" and "KSI VS LOGAN PAUL CRINGE".
He participated in a Miniminter video called "7 YOUTUBERS DECIDE WHO WINS $10,000"
Miniminter featured in one of ImAllexx's videos called "Paying Foreign Brides $40,000 With Miniminter".
ImAllexx has made videos on JJ including "Responding to KSI..." and "We Need To Stop KSI".
James Marriott
He participated in a Miniminter video called "7 YOUTUBERS DECIDE WHO WINS $10,000"
He has made videos about KSI including "KSI doesn't like me..." and "Everything Wrong With KSI". 
Controversy
The creation of the channel caused some controversy, due to the fact that another YouTuber, iNabber, was excluded from the channel. iNabber (Fraser) has been friends with the boys for years, and has long been considered part of the friendship group - in fact, he was roommates with James Marriott for a while. When the idea of a group channel was being introduced, iNabber was the most enthusiastic about the prospect, and was the most insistent to make it happen, whilst the others seemed more reluctant and/or apathetic. In fact, he was the one to initiate most of the meetings to try and organise it. For this reason, when the channel was created without iNabber, fans were obviously upset, and felt like Fraser had been "snaked". This was made more evident by Fraser himself, who appeared to have found out about the channel's creation at the same time as the fans, and went on a long rant during one of his livestreams.
In this rant, he clearly seemed upset and excluded from the group, and wondered what he had done to be left out. However, after having calmed down, Fraser spoke to the other members of the group and they discussed the matter privately. Fraser said that his outburst on livestream was a spontaneous thing, and that upon further consideration and discussion, the issue had been resolved in private.
Fraser and the Eboys seemed to have remained on good terms and are often seen to exchange conversations on Twitter. 
Running Jokes
"Louis cult" - in the video "I Started a Comedy Club on Discord", on George's channel, which featured all four of the Eboys, one fan, called Louis (@louis_shap ), was interrupted by his mum during a Discord call with the boys. The hilarious ensuing conversation with the boys led to "Louis cult", where the Eboys and their fans made Louis into an iconic figure and led to a cult following from stans.
The 5th Eboy - this joke started with the exclusion of iNabber from the Eboys, which led people to proclaim that he should have been the 5th Eboy. However, this joke has become more good-natured, with many people being suggested to be the 5th Eboy, such as Louis, or James's dad, Sean. The boys have confirmed that there will be no official 5th Eboy, but it is fun to come up with ridiculous suggestions.
Green screen - the Eboy videos often include a green screen in the background of the video. Whoever edits the video tries to include the most ridiculous and funny images for the boys to sit in front of. Some funny images that have been used include a romantic fan edit of ImAllexx and

Kavos

(who is known to dislike ImAllexx and often criticises him), and other memes relating to the boys.