Dissimulation is the debut studio album by British YouTube personality and rapper KSI released on 22 May 2020 through RBC Records, under BMG Rights Management. A deluxe edition of the album was released three days later on 25 May 2020. The album debuted at number 2 on the UK Albums Chart.
Background and recording
On 4 November 2019, it was announced that KSI had signed with RBC Records, under BMG Rights Management, in order to "take his music to the next level" and "further develop his music career in the US and internationally".[4] On the same day, it was confirmed that KSI had started working on his debut album.[4] On 5 April 2020, KSI confirmed that recording for the album had been completed.[5]
Speaking about the album, KSI said, "I hope this album empowers people and allows them to believe in themselves and conquer any obstacle in their way, no matter the circumstances. I hope this will silence a lot of skeptics. I've been doing music for over 10 years and constantly show growth. Hopefully they see that too".[6]
Regarding the title of the album, KSI said, "I felt dissimulation was the perfect name for the album – concealment of one's thoughts or feelings. I conceal a lot when it comes to personal things in my life. I also wanted to try and portray the difference between KSI and JJ in my music".[6]
Music and lyrics
Kitty Empire of The Guardian highlighted that while KSI's previous releases were grime influenced and featured British rappers, Dissimulation has many American hip hop features. Empire continued that the only "London vibes" on the album are the afroswing song "Houdini" and the Caribbean influenced "Killa Killa".[7] Speaking on the album's theme, KSI told Music Week, "I've surprised myself by what I could do with certain tunes and bringing certain emotions. "Domain" is more of a YouTube song, I wanted to make a song to show that I'm on a different level when it comes to wordplay. "What You Been On" is a braggadocious track to let people know that I am doing bits. I'm turning the question back on the haters and the people that were doubting me."[8]
Track List
| Track number | Track name |
| --- | --- |
| 1 | What You Been On |
| 2 | Cap ft. Offset |
| 3 | Poppin ft. Lil Pump + Smokepurpp |
| 4 | Houdini ft. Swarmz + Tion Wayne |
| 5 | Bad Lil Vibe ft. Jeremih |
| 6 | How It Feel |
| 7 | Wake Up Call ft. Trippie Redd |
| 8 | Killa Killa ft. Aiyana-Lee |
| 9 | Domain |
| 10 | Down Like That ft. Rick Ross + Lil Baby + S-X |
| 11 | Undefeated |
| 12 | Millions |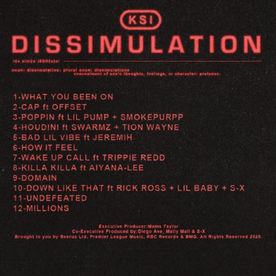 Community content is available under
CC-BY-SA
unless otherwise noted.