Cards Against Humanity is a game played by the Sidemen. To date, they have played around 100 recorded games. The last game they played was in July 2018.
For a full documented scoresheet of Cards Against Humanity sessions with the Sidemen, click here.
About
A card game inspired by Apples to Apples and Mad Libs, it is becoming increasingly popular, with regular gameplay videos appearing consistently on each of the group's secondary gaming channels.
Even KSI joined in for a while and uploaded his own viewpoint of the game to his second channel. Despite wroetoshaw occasionally playing along, he never uploads his own version of the videos. The real reason for the lack of content on his second channel is unknown, as Cards Against Humanity videos require very little editing; due to the fact that the "matches" are entertaining from beginning to end.
Style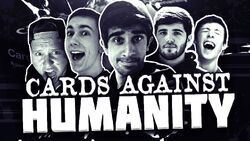 Stylized as a "fill-in-the-blanks" party game, players take it in turns to read out a black card from a deck, with the remaining players having to choose an appropriate white card which fits. The results can be highly explicit and the winner is the player whose card is either the funniest or the most offensive. Although initially conceived as an "in real life" board game, the Sidemen (naturally) play a virtual online version of the game called Pretend You're Xyzzy, which makes the gameplay much easier to follow.
Traditional Cards
Some of the most notable styles of cards are:
List of Players
The Sidemen
Online Associates
Trivia