A controversy in late-2018 resulted in a prolonged series of events which eventually built up to something nobody could have predicted. All of the events involve KSI and began on 18 November 2018. Most of the events of this beef ended on 6 December 2018, but spawned the KSI V Deji drama which lasted well into 2019.
Deji vs Randolph
(18 November - 7 December)
In a "Sidemen Sunday" video posted on 18 November 2018, Randolph was asked which YouTube channel he thought was "dead". He responded saying "Deji". This was an obvious joke.[1] Proving Randolph's point, Deji immediately made a video calling him "a slave of KSI" and doing everything for him.
After this, Randoph made a video in response saying that it was just a simple joke, and he released a diss-track Manchild aimed at Deji on 24 November 2018.[2] Deji posted a reaction video to this diss-track on the same day.[3] Deji then began work on his own diss-track RAN, which he posted on 26 November 2018. In the video (while talking about how KSI paid for Randolph's wedding) Deji leaked JJ's personal bank details.[4]
Randolph then released a second diss track on 30 November 2018, titled Victory Speech.[5] Deji's reaction to the track caused him to get in a further beef with JJ himself.[6] Randolph made a video on 7 December 2018 where he "ended it" and that he wasn't going to acknowledge Deji's "begs for attention" any longer. He admitted he only released the diss-tracks for money and attention, and did not expect it to get so out of hand.[7]
KSI vs Dax & Quadeca
(18 November - 6 December)
The drama officially started on 18 November 2018 when KSI appeared on the What's Good? Podcast, in which he "roasted" various internet rappers.[8] In the interview, KSI said both Quadeca and Dax were worse than him at rapping. Quedeca went on to post a full diss-track against him on 23 November 2018 called Insecure.[9]
KSI then responded to Dax and Quadeca's track with a reaction video and then made a diss-track back at them called Ares.[10] Dax then later appeared in Deji's diss-track (Unforgivable) against KSI with information given to him by Deji.[11]
Crypt vs Randolph
(18 November - 6 December)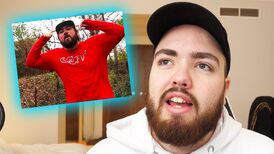 In the same podcast where KSI called out Quadeca and Dax, Randolph made small comments about Crypt. Crypt made a "warning track" called Warning against Randolph; showing off his rap skills and making small disses.[12] Randolph then made a small verse at the end of Victory Speech to talk about Crypt. Crypt then later appeared in Deji's diss-track against KSI on 6 December 2018.
Nothing between Crypt and Randolph followed this.
Jallow vs Konstantin
(18 November - 6 December)
Konstantin (who filmed and edited the Manchild diss-track by Randolph) reacted to Deji's first diss-track and "roasted" Jallow for his poor editing skills. Jallow then responded with a disstrack called Sidemen's Sideman aimed at Kon (which has since been deleted). Kon reacted hinting that he might be doing a diss-track of his own for the first time even though he acknowledged that he can't rap. Kon did indeed post a diss-track called Stephen Little - directly targeting Jallow.[13] Jallow then later appeared in Deji's disstrack against KSI on 6 December. Nothing between Konstantin and Jallow occurred after this.
Deji vs KSI
(27 November - 7 December)
The beef between Deji and Randolph spilled into the beef between KSI and Deji. When KSI reacted to both Randolph and Deji's diss-tracks on 27 November 2018, he expressed his disappointment in his parents for allowing Deji to go into his personal bank account and leaking his details.[14]
Deji then responded with a video saying that KSI had taken Randolph's side and it was an unfair beef with "6 vs 1". Deji then went on saying that he never gotten a girl pregnant (something Randolph mentioned in his Victory Speech disstrack) but then commented that JJ had, despite the fact that W2S already said JJ had an abortion during the 2017 Sidemen War the previous year. These snide comments caused even more bad vibes between the brothers. The beef then escalated with Deji tweeting out that JJ had blocked him and JJ then tweeting "get rid of negative delusional people, even if they are family" although this was deleted shortly after.
Deji then made a full video calling out his brother for preferring his friends over family and saying that KSI had a god complex. JJ immediately tweeted that he loved his brother and made a video apologising for certain things. Deji then uploaded a huge disstrack called Unforgivable on 6 December 2018, with Jallow, Dax and Crypt. Despite the video being made prior to JJ's apology video, Deji uploaded the diss-track anyway to "keep things fair" for the people featured in the diss-track. The apologetic tweets and video by JJ were deleted shortly after.
Deji went on Logan Paul's podcast (Impaulsive) in early-December to explain the situation. In the podcast, Deji called JJ manipulative and he called the Sidemen "fake". He believed they only had JJ's back on the surface, but were not truly on his side. The podcast was released on 7 December 2018.[15]
The posting of Unforgiven (as well as Deji's appearance with Logan Paul) enabled the beef to continue beyond 7 December 2018 into the events of the full KSI V Deji Drama.
References
Community content is available under
CC-BY-SA
unless otherwise noted.